This article will explain the dynamic rate process, how to use it, and the options it offers to your rates
A dynamic rate is a rate that can change when set variables created by you. This can be blacking out date ranges, changes the rate amount during an extended period of time, and can also be used to set the number of reservations each rate can be booked in the system.
How to create a dynamic rate:
1. Click Maintenance

2. Click Reservation Rates
3. Choose the rate you want to edit in the drop down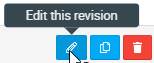 4. Click the edit rate pencil
5. Then select the edit advanced options and dynamic rate pencil

6.Click Add Dynamic Rate
7. Fill out any information that you want to change

8. Select Back to Rate, Back to Revision, then Save Revision to save your changes
Extra features of dynamic rates:
Reservations Count: Minimum or maximum amount of reservations able to be made from this source during a quoted period of time
Projected Inventory: Minimum or maximum projected lot inventory amount for the quoted period of time
Book By Date: Reservation quotes must be made by the date selected
Advanced Book Period: How far in advance they must book this reservation
Declarations: This section allows you to set black out ranges in rates or to change rates during a certain time frame.
Blackout: Stops the rate from being able to be used during the selected time frame
Rate and Display Name: What you want the rate to change to during the selected time frame