It is possible to "receive" a payment for a recurring at any time during the billing cycle, or even for an account that is not currently configured for recurring billing. To do you need to use the "Receive Payments" screen in netPark. To receive a payment, follow these instructions: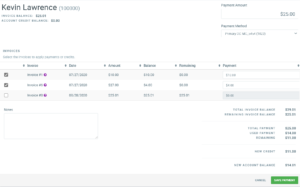 Click Recurring on the navigation menu.
Search for the Customer or Company/Group you wish to receive a payment for.
Click the green $ in their row – this will load the Receive Payments screen.
Set the Payment Amount and Payment Type in the top-right.
Select the invoices the payment applies to, if applicable.
Click Save Payment to finish.
Account Credits
If a payment is taken and not associated with any invoices OR it exceeds the total balance of the account, an Account Credit will be generated. Account credits can be applied towards any existing invoices at anytime, or they can be marked to apply automatically towards future invoices. Learn more about Account Credits.