Reservation Rates are used to map out specific rates for third party, netPark internal and a local website.
Reservation Rates give customers and employees the ability to book reservations online.
There are three ways that Reservation Rates are used:

netPark Internal – Sets up the reservation rates system in netPark. Allows employees to book reservations for customers.
Local Website(s) – Sets up reservation rates on the website(s) of the location
Third Party Site(s) – Sets up reservations for third party providers.

Setting Up Reservation Rates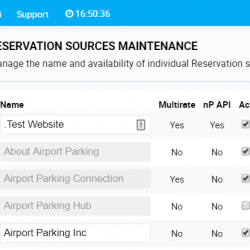 The first step is to make sure any reservation source(s) are updated. This is done by clicking on Maintenance and then on Reservation Sources.

In Reservation Sources, check the Active checkbox for any sources to make the particular source available in Reservation Rates. Make sure it saves and go back to Maintenance.
To set up Reservation Rates, click on Reservation Rates in Maintenance.
In Reservation Rates, select the Source drop-down. These sources are netPark Internal, Local Website(s) and Third Party Site(s)
After selecting a Source, set the date range for how long the rate will be available to book.

We recommend setting a longer date range, such as 2-5 years, to make sure the rate is available without needing to constantly update.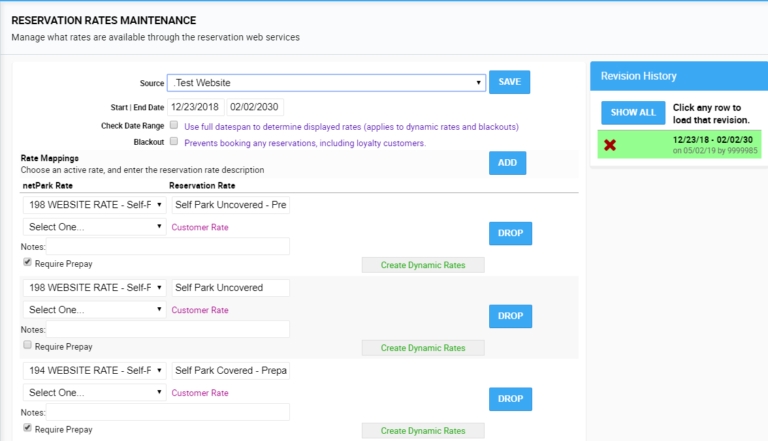 If the reservation source is new, click on the blue Add button. If there are already rates set up it is possible to just change the rate(s) on the list. 
Clicking Add will create new spots for rates.
The spots will need to have a netPark rate which is set up before hand. The second box, Reservation Rate, is what the name of the rate will be on the website. Finally, Customer Rate, is what a customer with an account for the location will see on the website.
Each setup will be different as far as third party reservations since every third party has its own set of rules. Make sure you consult with your third party providers to confirm the necessary setup.