Invoices serve as the 'ticket' for the recurring system. Invoices can have multiple charges associated with them and can be categorized and reported on differently for each use case. Customers can have multiple invoices and even have invoices that have not yet been paid. Invoices are typically auto-generated by the recurring system, but can be manually created when the need arises.
Common cases for generating a manual invoice:
Adjustment to existing recurring process (e.g. customer was setup on wrong rate)
Late Fees
Lost Credential Fee
External Service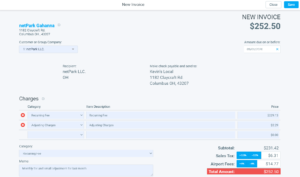 Creating an Invoice
Click on the Recurring in the navigation menu.
Within this screen, click on the Invoices tab.
Click the green + NEW INVOICE button.
This will open the Invoice popup.
Start by selecting the Customer or Group/Company to generate the invoice for.
Add a new Charge by selecting the Billing Category, providing a description for the fee and setting a price.
Using the +/- buttons next to the Taxes & Fees to Apply or Derive Taxes/Fees from the total (if applicable).
If different than the first fee, choose a Billing Category for the Invoice itself.
Provide notes under Memo.
Review your invoice and hit Save when done.
Editing an Invoice
Editing an invoice is very similar to creating invoice. Make your way to the Recurring -> Invoices tab and using the search, find the invoice you wish to modify and click it. This will load the invoice in a locked state where you can review all of the details. To edit, click the Edit button in the top-right corner. From here you can adjust the amounts or remove existing payments.
Voiding or Crediting an Invoice
An Invoice that has not been posted can be voided or credited at any time. To do so, follow the instructions for Editing an Invoice to unlock an invoice to edit. Once it is unlocked, a row of actions will become available in the top-left corner. Click on "Void / Credit Invoice" to start the process. A voided invoice essentially 'never existed'. It will disappear from all searches as if it was deleted. A credited invoice will create a negative invoice, which is used to bring the original invoice balance to zero. If an invoice has been posted, the only way to clear it is to credit the invoice. The invoice will continue to show in the customer or group/company's history, but the balance will be zero.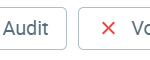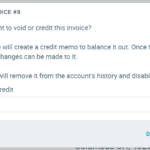 ---
MAIN POINTS
These invoices will be charged by the card on file.
If a customer is set to be billed to a company, that company will be charged for the invoice.
The Accrual Date will be when the invoice will be charged.